Executive Advertising Group (EAG)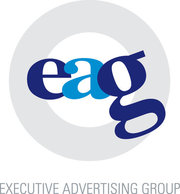 Executive Advertising Group (EAG) is a premier multicultural advertising agency, providing a full-service, direct-response approach to increasing the benefits of each client by integrating the latest and most profitable sources of revenue and growth for companies in all sizes. As an established leader in direct television production in the US and Hispanic markets, EAG has produced a wide variety of television spots and infomercials that have translated into unprecedented revenue for our corporate clients.
Founder and current Chairman William Riveron created EAG to help English and Hispanic businesses prosper through creative, results-driven advertising strategies that encompass branding and ad space planning, but what is It is ultimately intended to provide a direct response approach to the field of conventional marketing. Because William is bilingual and has a background in two cultures, he has been able to better understand EAG's clients and take advantage of the different cultures, customs, and habits of the growing multicultural market, especially in the state of Florida.
For more information contact William Riveron:

Disclaimer: The companies displayed on this website provide guidance information, and it does not constitute the provision of legal advice, tax advice, accounting services, investment advice, or consulting professionals of any kind. The information contained herein should not be used as a substitute for consultation with competent legal, tax, accounting and other advisors. Before making any decision or taking any action, you should consult with a professional who has received all pertinent data relating to your particular situation. The information in this document has been provided "as is" without warranty or guarantee of completeness, accuracy, and timeliness of the information, express or implied, but not limited to warranties of performance, merchantability, and fitness for a particular purpose.